I have really enjoyed reading through all of the posts and gained quite a bit of knowledge & motivation (it is needed with the 100deg.+ days we have had recently) to keep slowly working on a 2000 Maristar 210 VRS I picked up from a neighbor last month. The boat made the long journey (2 houses down) on 7/2; exactly 13 days before my daughter was born. Needless to say the wife was less than enthused. I thought it would be a good idea to go ahead & start my own thread to help chronicle the work I am doing(and because I am sleep deprived & forget more than is coming into my head at the moment) as well as elicit suggestions about things I should or shouldn't be doing (please interject with both).This boat has had a rather hard life in primarily salt water & being stored outside (occasionally with a cover). It has a leaking transmission (
http://www.mastercraft.com/teamtalk/...ad.php?t=55683
) along with a bit of corrosion and rust on the motor, but it still started right up when I turned the key. I have removed the entire interior and spent a bit of time with the buffer & 3M buffing compound as well as a cleaner wax & then a non-carnuba based wax. I am pretty happy with the results for now, but will probably re-approach the finish with finesse-it & a fleet wax this winter. I will also start to get quotes for redoing the interior during the slower winter months. I have now also decided to pull the entire running gear (motor & trans) so that I can clean, inspect, & fix anything needed while not being cramped in the engine compartment. Here are a few poor pictures that I have taken over the course of the work.
As it came home:
[IMG]
[/IMG]
[IMG]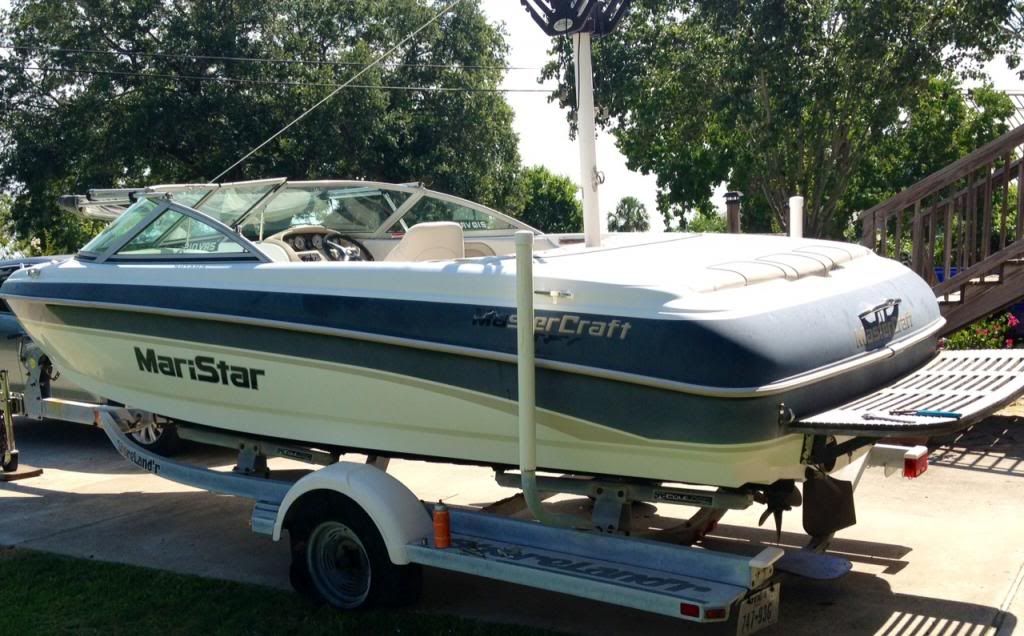 [/IMG]
Motor & Trans:
[IMG]
[/IMG]
[IMG]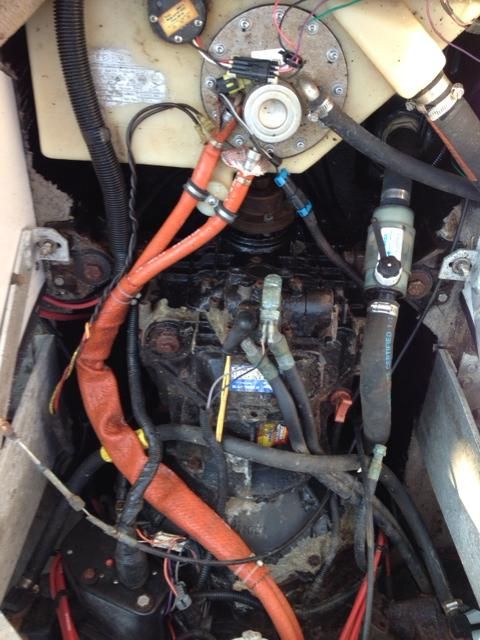 [/IMG]
Swim platform refinished (washed, sanded, teak oil):
[IMG]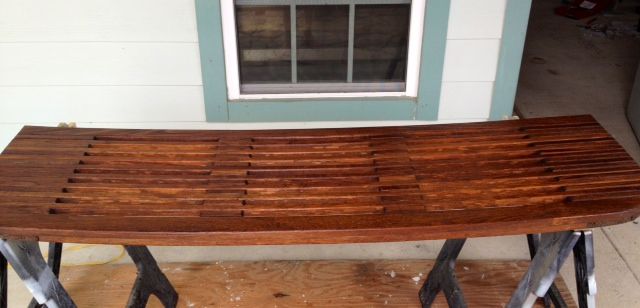 [/IMG]
Break for having the little one (Evelyn):
[IMG]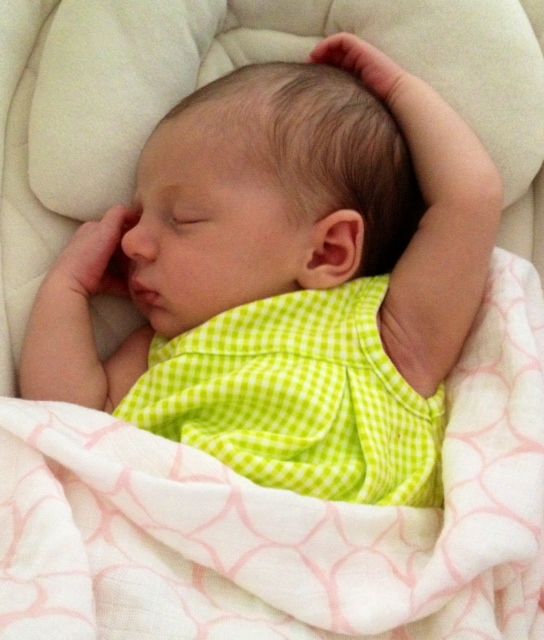 [/IMG]
After 2 passes with 3m buffing compound:
[IMG]
[/IMG]
[IMG]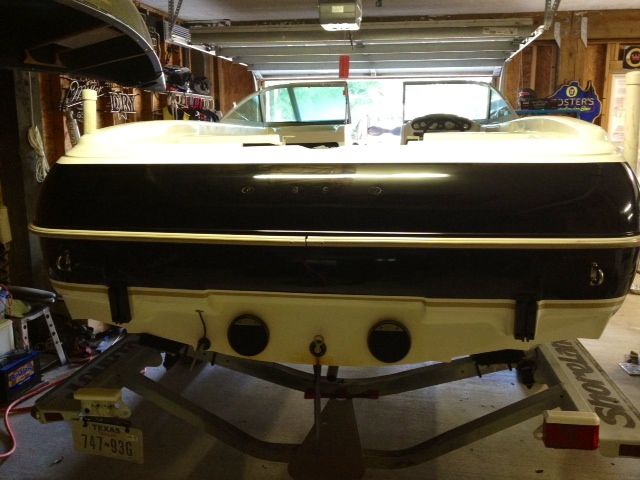 [/IMG]
After cleaner wax (looks better, but not 100%):
[IMG]
[/IMG]
Playing with speaker options (my trim rings to fit 6.5" speakers look really bad & I'm thinking about putting 2 8" subs up front for a little more fill.... not sure though... any suggestions?):
[IMG]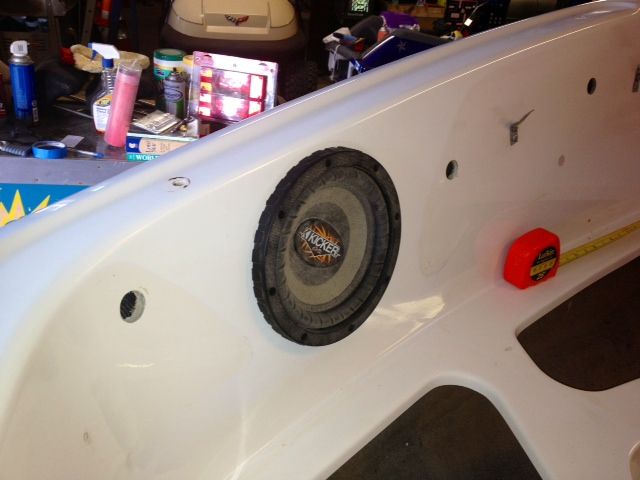 [/IMG]
The beginnings of my motor stand... (should be pulling on Thursday or Friday):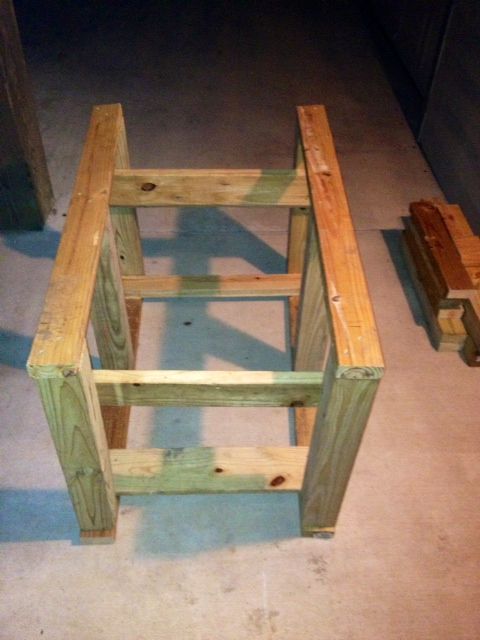 That should be enough fornow. Any suggestions; please let me know!
Thanks,
Luke