Folks,
A brief writeup. Carb appeared to be original to the boat, and with relatively low hours - 650hrs, I decided on a rebuild versus a replacement.
The symptoms weren't severe, but I had some hesitation and stalling after idling for extended periods, and the transition was a little... just not crisp.
I figured I would take it apart, give it a good cleaning, and see what happened.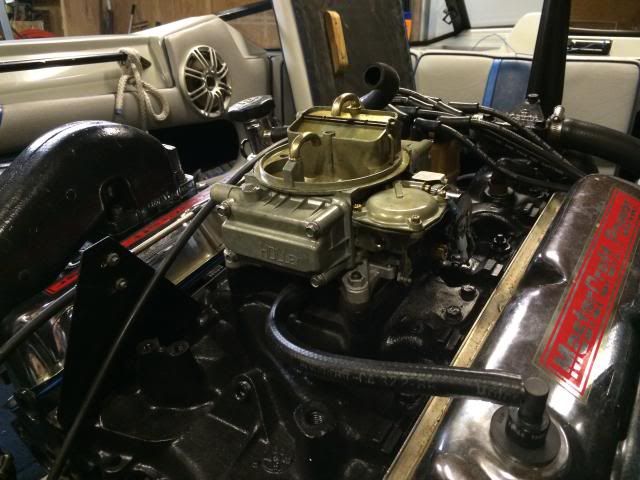 Hey, that part is easy...
Fuel was dirty... couple of big chunks in it... a bit disconcerting seeing how I have two new fuel filters. I'm guessing this was in the carb for awhile.
On the bench, before disassembly.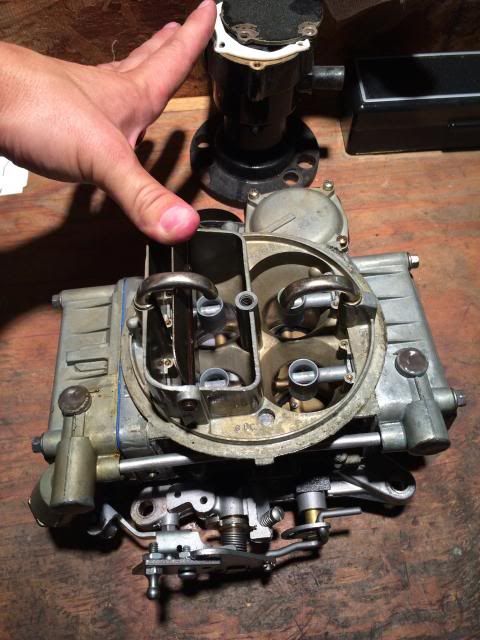 Looks pretty clean, really...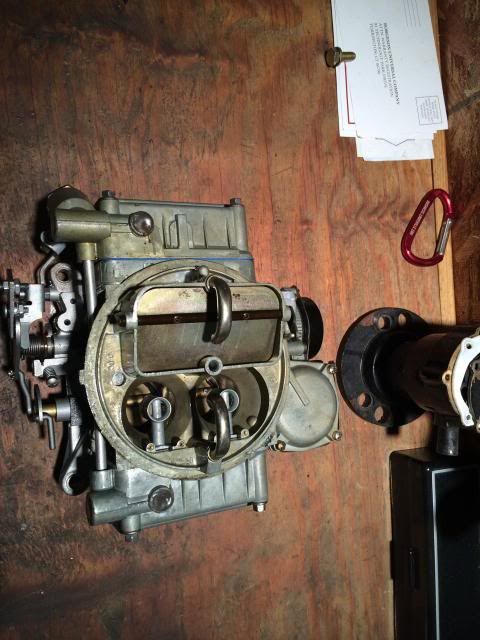 Bottom side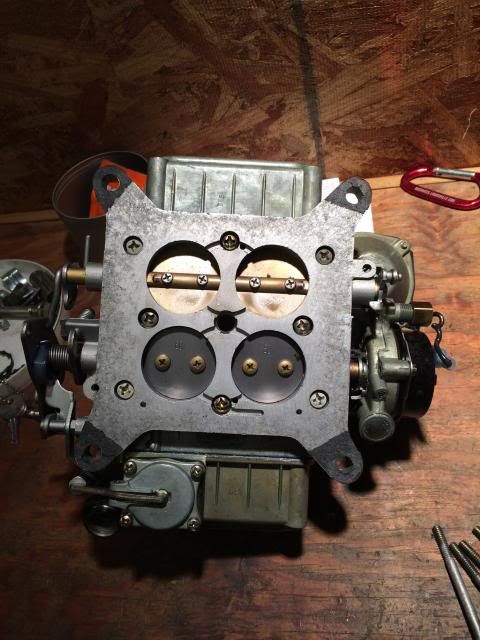 Eight screws and the throttle plate comes off the main body of the carb.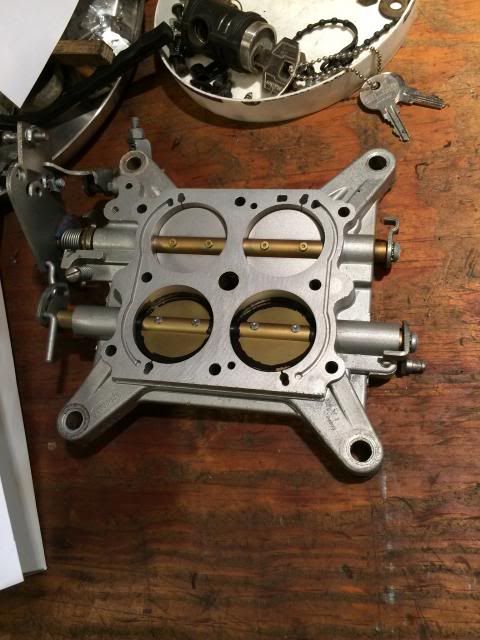 This is the retainer clip for the secondary diaphragm... don't lose this sucker, my new kit didn't come with a new one - kinda ticked me off...so keep this guy...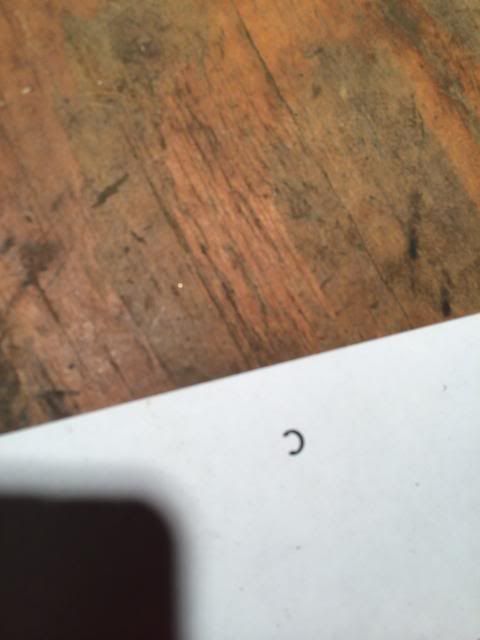 Carb body with throttle plates removed. One top right, you'll see the shaft for the secondary diaphragm, and that is what the little c-clip in the previous photo retains to the throttle linkage.
The other object in this picture is the choke, on the RHS, lower.
At the lower left of the pic, you can see the base of the accelerator pump mechanism.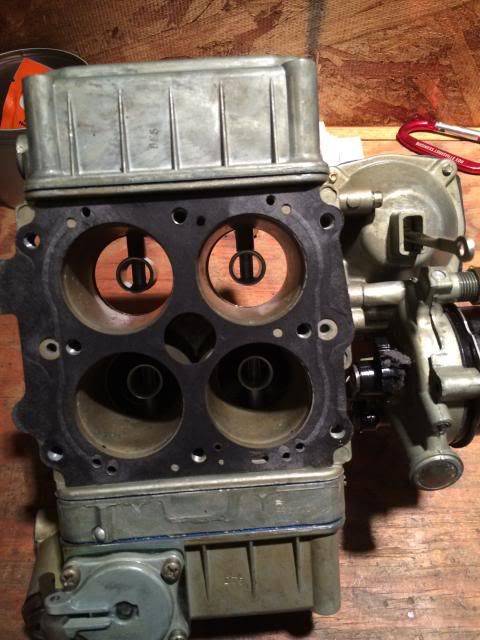 Gasket removed, you can see for the most part, the carb looks pretty clean....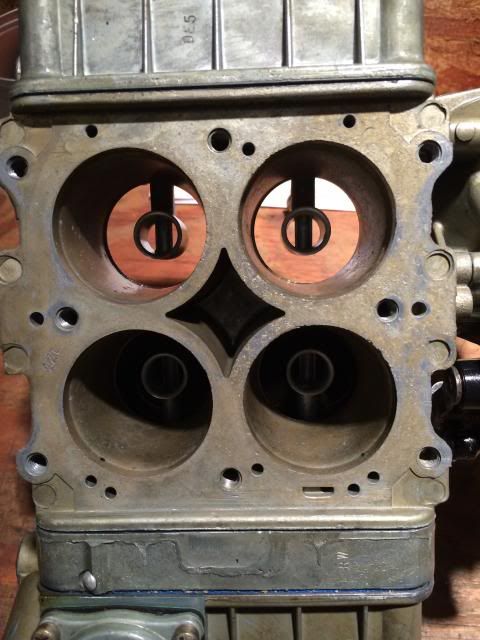 This is the bow side fuel bowl removed, and the main metering plate is in my hand. You have to remove 6 screws to get this metering plate off. It may be stuck. If so, take a rubber mallet and gently tap. The round part in the middle is the infamous "power valve". Also notice the brass connector tube sticking out.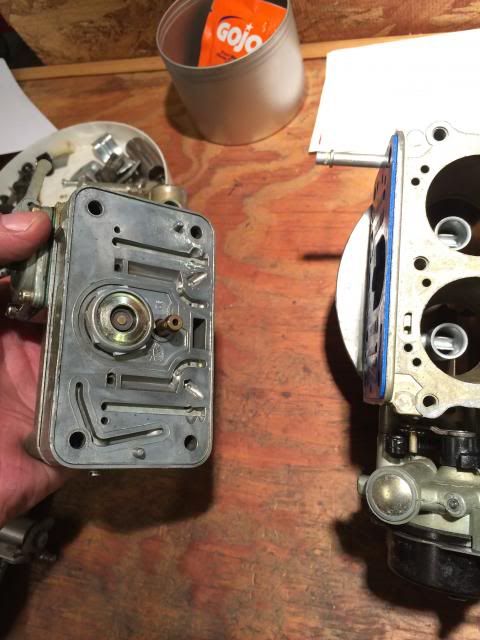 This is where the main metering plate attaches to the carb body. Sorry it's a dark picture.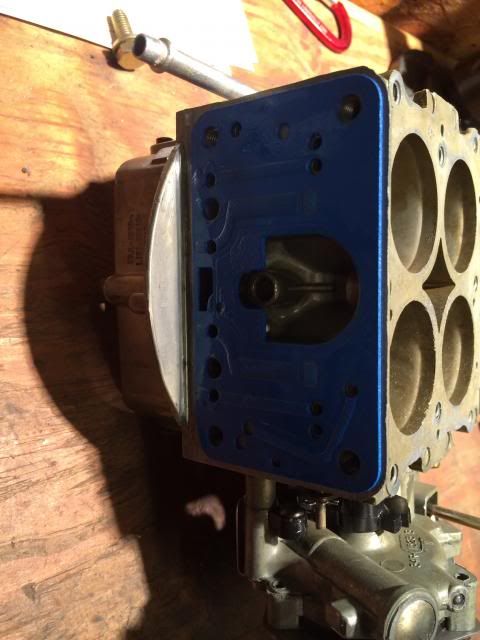 Here you can see the front fuel bowl, with the accelerator pump diaphragm removed. It's 4 screws to get to this - and under it is a spring. Don't lose the spring...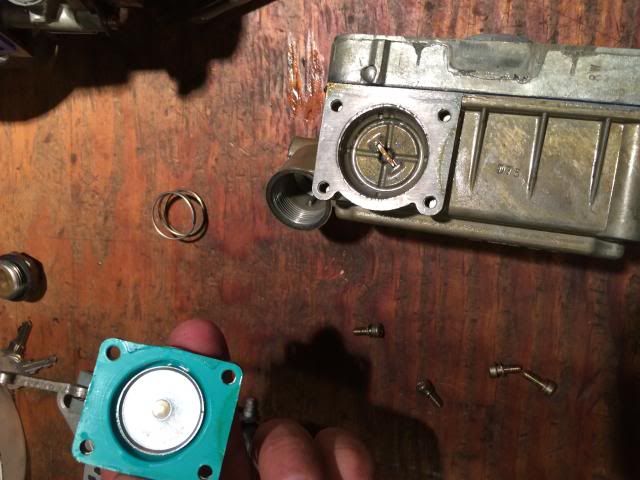 Front side of the main metering plate. The two dark brown things at the top are the main metering jets, and the other side of the power valve is seen here. Note that this picture is taken with the plate 180* out of orientation. The metering jets sit at the base of the carb.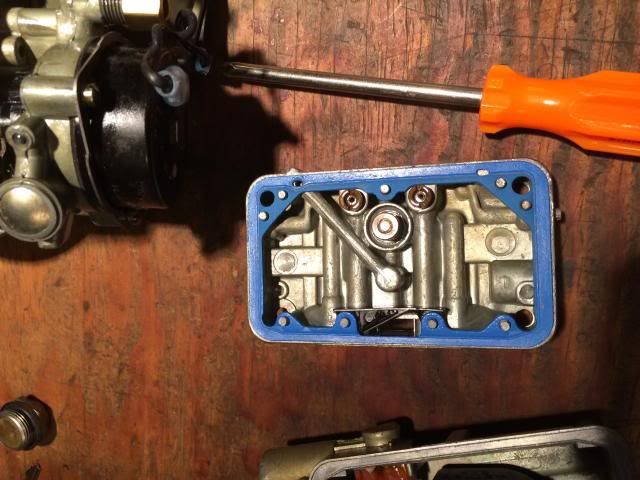 This is the bow side fuel bowl. I know because the accelerator pump is at the base of this one. My floats were set correctly - that is, the fuel closed off when the floats are parallel with the bowl. It's easier to understand when you're inside the carb and can play with how the floats move. They were both dirty. I disassambled, cleaned, and changed the needles and seats, readjusted the floats to the new needles and seats so they will be parallel again.